Buying a home is a significant milestone, often requiring a hefty financial investment. Many Australians go the route of obtaining a mortgage to finance their dream home.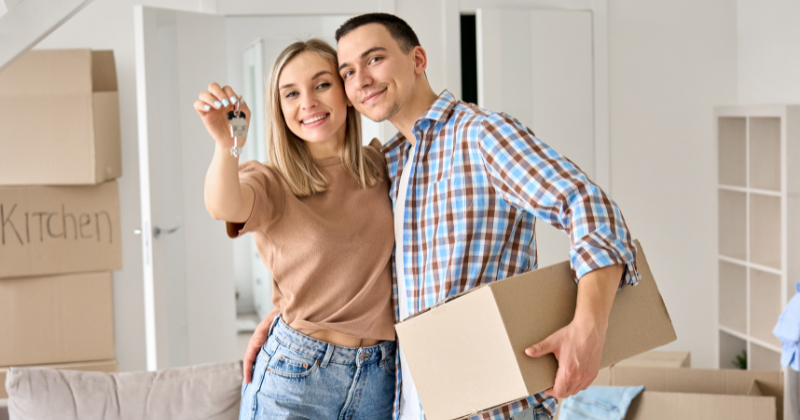 But what happens if unanticipated events such as illness, injury, or job loss jeopardise your ability to meet your mortgage repayments?
This is where Mortgage Protection Insurance comes into play. In this article, we'll look into Mortgage Protection Insurance in Australia to find out what it is, how it works, and if it's the right choice for you.
Mortgage Protection Insurance Explained: Do You Need a Mortgage Protection Plan?
Mortgage protection insurance protects both the home and family from experiencing financial hardship in case of unexpected events. Mortgage protection insurance can provide a lump sum payment or regular income to cover mortgage repayments until the homeowner returns to work or their health improves.
What is a Protection Plan for a Mortgage?
Mortgage protection insurance is an optional insurance made available to some home loan borrowers. Mortgage protection insurance is a type of consumer credit insurance (CCI) like personal loan protection insurance.
In Australia, mortgage protection insurance operates similarly to income protection or life insurance coverage. However, mortgage protection insurance solely covers home loan costs.
It is designed to provide a payout if you are unable to meet your home loan repayments in certain circumstances.
Mortgage Protection Insurance Policies
Depending on the insurer and policy, mortgage protection insurance can provide a financial benefit to a policyholder or their loved ones in the event they can no longer make mortgage repayments due to the following circumstances:
involuntary unemployment,
critical illness
inability to work due to accident, or 
death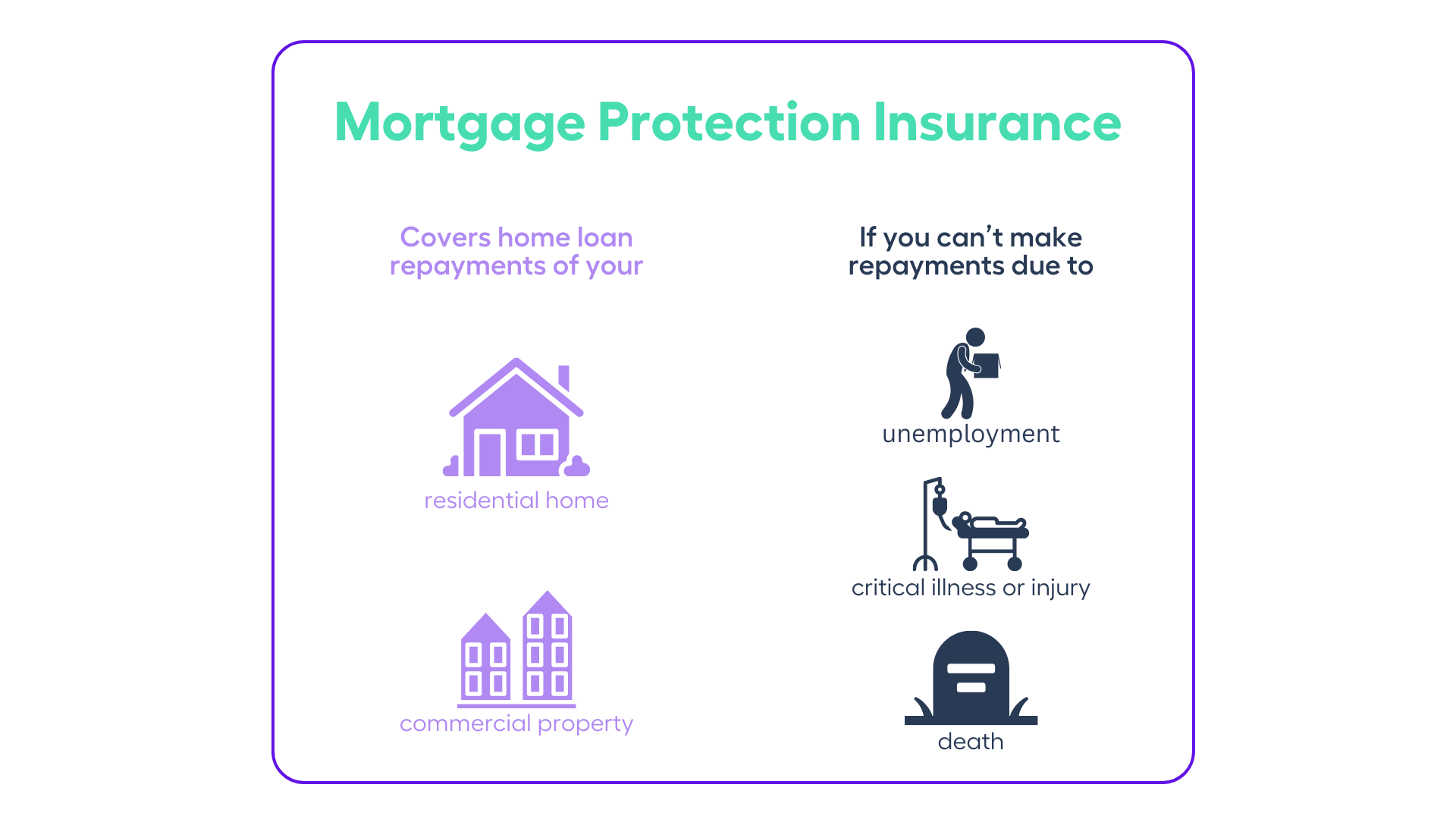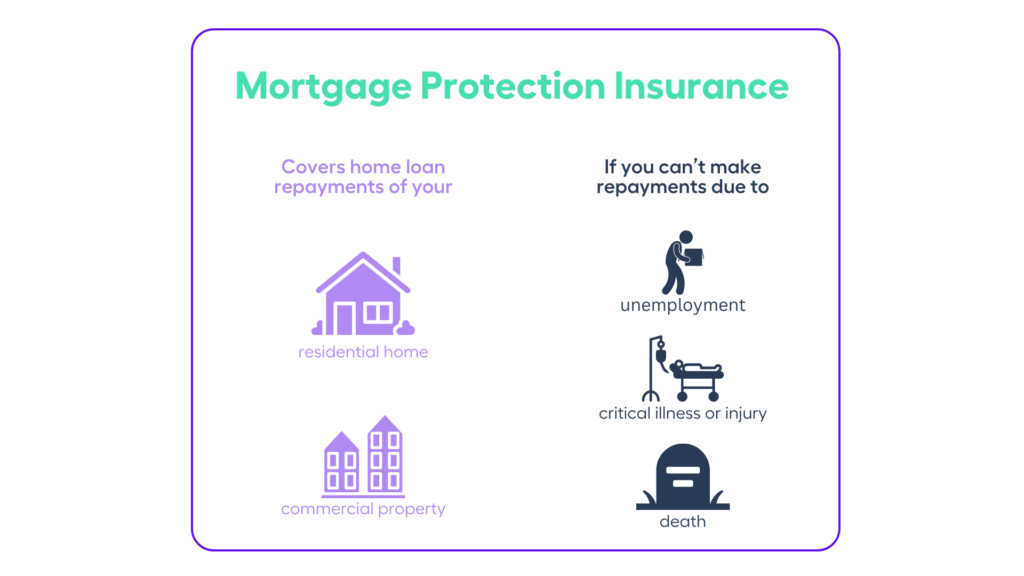 For example, if a policyholder dies and their loved ones successfully file a claim under a mortgage protection policy, the insurer may pay a one-time lump sum amount towards their outstanding home loan balance.
Alternatively, if a full-time policyholder loses their job and their insurer confirms their claim, they may be eligible to receive regular insurance payments to cover their home loan repayments for a limited time.
Both residential and commercial properties are eligible for mortgage protection insurance. Loans for owner-occupied and investment properties are also eligible for mortgage protection insurance.
But keep in mind that mortgage protection insurance covers only home loan repayments. It will not cover any of the policyholder's other expenses, like a life insurance policy or income protection policy would.
Mortgage Protection Insurance Cover
The features of mortgage protection insurance vary by insurer or lender, as well as by the amount of coverage. Depending on why you can't make your mortgage repayments, you'll usually get one of three payouts. These are:
A lump sum payment to cover the outstanding balance of the home loan after your death. Your family is free to use any leftover money however they see fit.
A monthly payment that covers your mortgage repayments because of a critical illness or permanent disability. These payments can go on for anywhere from 30 days to three years.
A monthly payment to cover your mortgage repayments after losing your job. Most of the time, these payments are made for less than three months.
Note that you won't likely be covered if a doctor has diagnosed you with an illness, injury or disability during the previous 12 months of purchasing insurance because this will be considered a pre-existing medical condition.
What Type of Insurance is Most Suitable for Mortgage Protection?
In 2019, the Australian Securities & Investments Commission (ASIC) found that most consumer credit insurance (CCI) products sold by banks and lenders—including credit cards and other loans besides mortgages—"consistently failed consumers" and were of extremely poor value for money.
Although mortgage protection insurance wasn't cited for poor consumer outcomes, all lenders in ASIC's report (REP 622) have stopped offering CCI with credit cards, personal loans, or home loans since July 2019.
Mortgage protection insurance is less common than it used to be, and big banks no longer provide it to new customers. However, your lender or mortgage broker may provide it during the house loan application process.
So is mortgage protection insurance worth it?
Whether or not you should pay for mortgage protection insurance will depend on your own situation.
How much mortgage protection insurance costs depends on how much you want to protect. A sliding scale will be used to calculate the exact value. However, insurance premiums charged by each mortgage protection insurance provider vary.
Also too, you may not require mortgage protection insurance if you already have life, TPD, and/or income protection cover, such as through your super fund.
Should you wish to cover your outstanding loan on your mortgage repayments without taking a mortgage protection insurance cover, there are alternatives. You can consider Life, TPD, trauma and income protection insurance. 
Is Mortgage Protection the Same as PPI?
Mortgage protection insurance is like Payment Protection Insurance (PPI) in that it makes sure that a loan is paid back. But mortgage protection insurance and payment protection insurance (PPI) are not the same thing.
Mortgage protection insurance payouts are made directly to you, to pay the mortgage. while PPI payouts are made direct to your lender, rather than you.
In a way, PPI is more similar to lenders mortgage insurance (LMI). Although, a PPI takes effect only when a policyholder passes away.
Lenders Mortgage Insurance (LMI) is insurance purchased by a lender to protect itself against the risk of not recovering the outstanding loan balance if you, the borrower, fail to make your loan payments and the property is sold for less than the outstanding loan total.
The Pros & Cons of Mortgage Protection Insurance Cover
Whether or not you need mortgage protection insurance depends on your individual circumstances such as financial situation and personal objectives. If you have a large mortgage and a family to support, then mortgage protection insurance could provide peace of mind in the event of an unexpected event. However, it is important to weigh the costs and benefits of mortgage protection insurance and compare it to the alternative options before you decide whether or not to purchase it.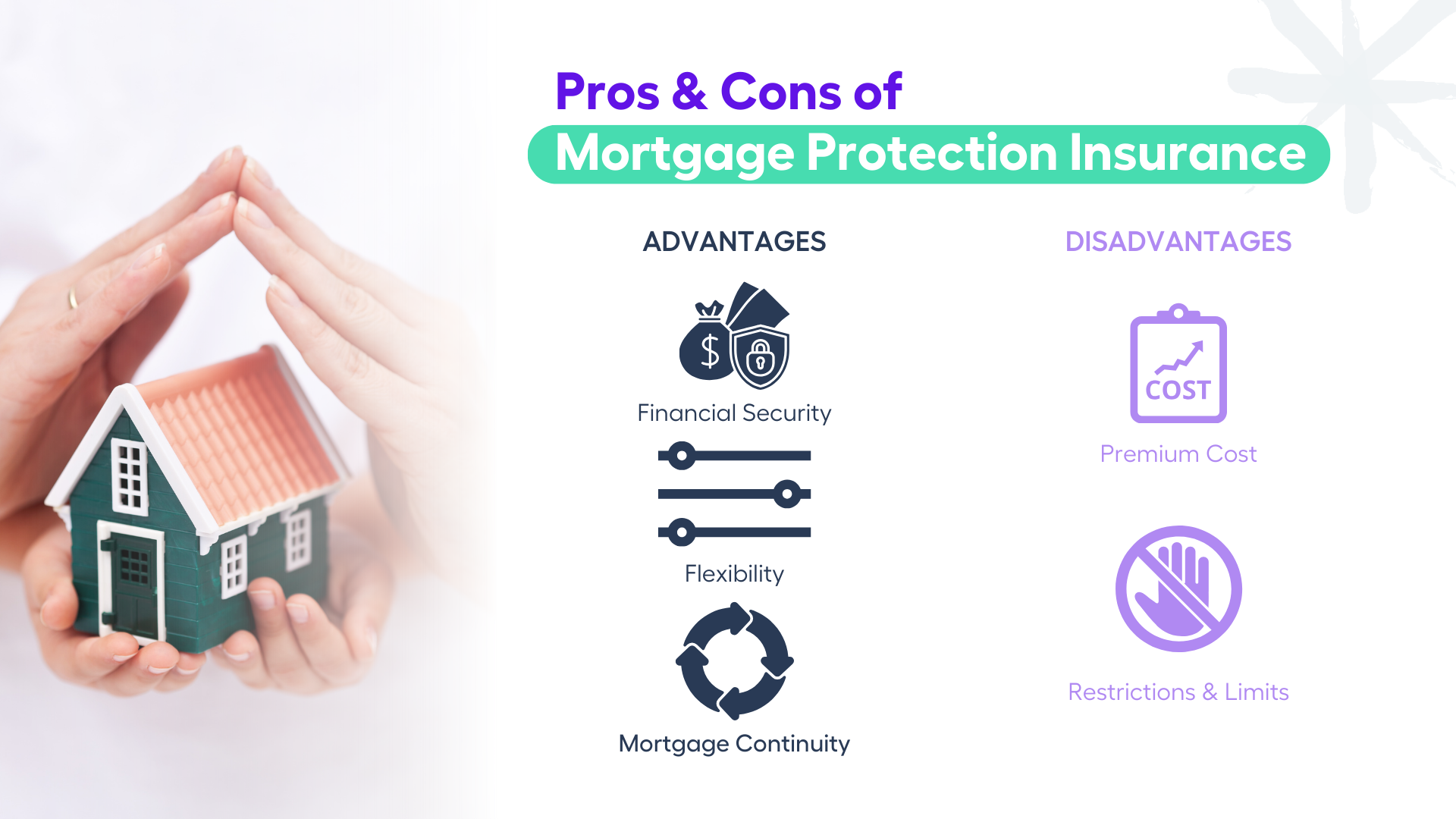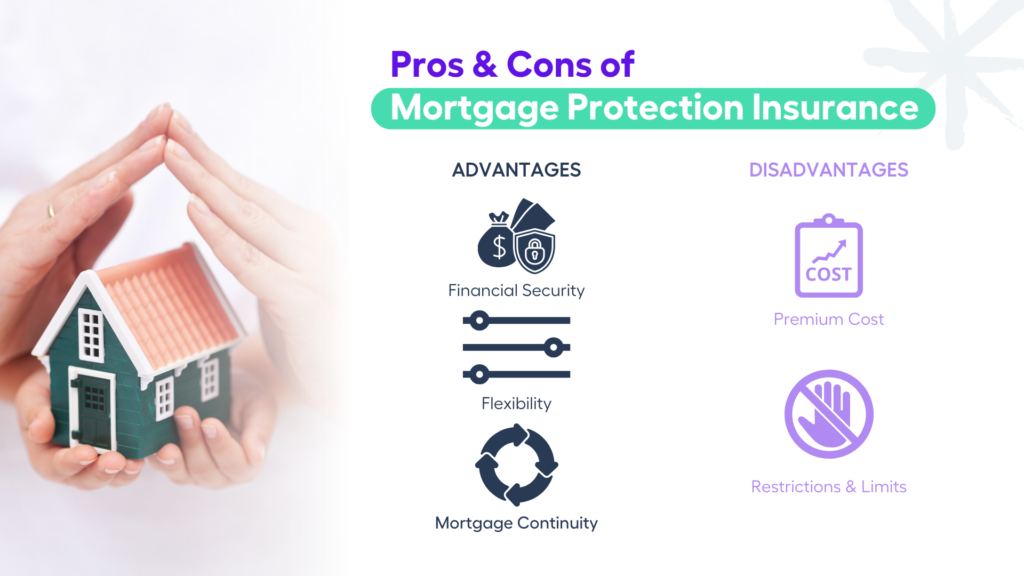 Advantages of Mortgage Protection Insurance
Financial Security: Perhaps the most important benefit of MPI is the peace of mind it offers. It can be a big relief to know that your mortgage payments are covered during difficult times.
Flexibility: MPI policies frequently offer coverage and premium payment flexibility, allowing you to pick a plan that meets your needs and budget.
Mortgage Continuity: With MPI, you can keep your house even if you face difficulties, such as disability or unemployment, lowering your chances of foreclosure.
Disadvantages of Mortgage Protection Insurance
Cost: The cost of MPI varies according to your age, health, and the amount of coverage you want.
Insurance restrictions and limits: Be aware of insurance exclusions and limitations that may affect your ability to collect benefits. It is critical to thoroughly read the fine print on your product disclosure statement.
Learn More About Mortgages with the My Money Sorted
My Money Sorted is your go-to resource if you want to learn more about mortgages. We provide comprehensive information, expert advice, and valuable insights to help you navigate Australia's complex mortgage landscape.
Whether you're a first-time homebuyer or a seasoned homeowner, our articles, tips, and tools are meant to provide you with knowledge, helping you make informed decisions about your mortgage.
Check Your Borrowing Power with MMS Loan Calculator
Before you embark on your homeownership journey or consider Mortgage Protection Insurance, it's crucial to understand your borrowing power.
My Money Sorted has an easy-to-use Loan Calculator that can provide you with an accurate estimate of how much you can borrow based on your financial situation.
When it comes to acquiring the correct mortgage and planning for the future, knowing your borrowing capacity can be a game changer.
Speak with a Money Guru Today
Sometimes, the best way to make sound financial decisions is to seek expert advice. At My Money Sorted, we have a team of Money Gurus ready to assist you.
Whether you have questions about mortgages, insurance, investments, or any other financial matter, our experts are here to provide personalised advice tailored to your needs.
Don't hesitate to reach out and have a conversation with one of our Money Gurus today.
Your financial well-being is our top priority, and we're here to help you achieve your goals and protect your home with confidence.