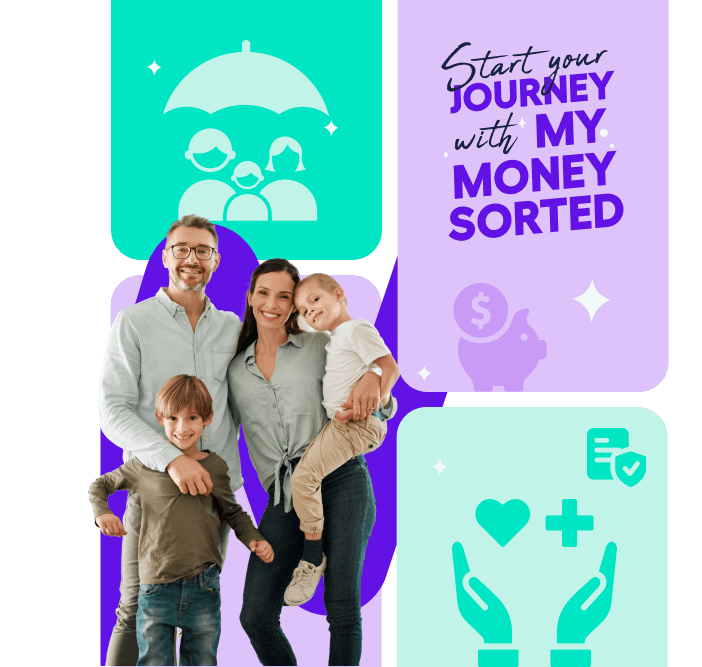 Navigating Insurance with Expert Advice
My Money Sorted is a team of experienced insurance experts who understand the complexity of insurance and its impact on individuals. With a deep understanding of Australia's insurance market, we provide insurance advisory service and tailored coverage to suit individual needs.
MMS breaks down complex insurance terms, make them easy to understand, and ensure a plan that fits perfectly. Our top priority is your peace of mind, ensuring clarity, trust, and full coverage. Our goal is to make the insurance process stress-free and easy for you, ensuring an easy and stress-free experience.
Comprehensive Insurance Consultancy Services
My Money Sorted offers a comprehensive range of insurance advisory services to help you navigate the intricate world of insurance. Our team of experienced advisors specializes in the following types of insurance.
Life Insurance
Life insurance is the cornerstone of financial planning. Our advisors assist in navigating term life, whole life, and universal life insurance policies, helping individuals and families determine the right coverage amount and policy type to ensure financial stability during times of need.
Health Insurance
The healthcare landscape can be daunting, but we're here to simplify it. We'll help you find a plan that suits your medical needs and budget, whether it's individual or family coverage, Medicare supplements, or long-term care insurance.
Property Insurance
We understand that every property is unique, and that's why we take the time to understand your specific needs and tailor a plan that fits your requirements. We will guide you through selecting the right coverage and provide you with peace of mind by protecting you against unexpected events.
Liability Insurance
Property insurance provides a strong defence against various threats to your valuable assets, whether it's a cherished home, a rental property, or a commercial space, offering a sense of security in unexpected situations.
With policy inclusions and costs varying widely across the industry, it's important that you find the best fit for your needs. My Money Sorted are proud to partner with industry leading insurers who offer a wide range of policies to suit your budget.
Let us help you find the best insurance options for your needs.
Choosing the Right Insurance Coverage for you
Our approach is designed to give you complete confidence. To guarantee a safe and worry-free future, our seasoned team will craft insurance policies specifically tailored for you.
Comprehensive Assessment
Our journey begins with a comprehensive assessment of your unique circumstances and future aspirations. This foundation allows us to identify potential risks and understand your specific insurance needs.
In-Depth Risk Analysis
Drawing upon our extensive experience, we conduct an in-depth analysis of the risks tied to your lifestyle, assets, and goals. This expertise ensures that every potential vulnerability is addressed.
Personalised Solution
Based on the insights gathered, we meticulously craft personalised insurance solutions. With a diverse range of options at our disposal, we tailor coverage plans to align perfectly with your risk tolerance and financial capacity.
Coverage Customisation
Recognising your individuality, we fine-tune coverage dimensions to fit your precise needs. This meticulous approach guarantees that you're fully prepared for any unforeseen circumstances.
Informed Decision Making
We provide you with a comprehensive breakdown of recommended coverage options. Our advisors take the time to explain each facet, empowering you to make informed decisions that resonate with your protection requirements.
Why Partner with My Money Sorted?
Our goal is to give you a deep sense of peace by giving you unmatched industry knowledge, a wide range of insurance companies, and solutions that are made just for you.
Trustworthy Guidance
Count on us for unbiased advice. Our commitment is to your security and financial wellbeing.
Industry Expertise
Our seasoned professionals possess in-depth industry knowledge to guide you through complex insurance decisions.
Wide Network of Providers
We work with multiple insurance companies to find the one that best suits your needs.
Tailored Solutions
We personalise insurance plans according to your unique needs, ensuring comprehensive coverage.
Time and Money Saving
Spend less time figuring out policies and more time saving money.
Get Financial Advice from the Trusted Financial Advisors in Australia
Frequently Asked Questions (FAQ)
What is the role of an Insurance Advisor?
An Insurance Advisor plays a crucial role in helping individuals and businesses make informed decisions about their insurance needs. They assess your unique circumstances, identify risks, and recommend suitable insurance products or coverage to mitigate those risks effectively.
How does the insurance advisory process work?
Our consultation process begins with a thorough understanding of your unique needs and circumstances. Our experienced experts will assess your requirements, provide tailored recommendations, explain coverage options in simple terms, and assist you in selecting the most suitable insurance plans.
What types of insurance do you provide advice on?
We offer advice on a wide range of insurance types, including but not limited to life insurance, health insurance, property insurance, business insurance, and income protection insurance. Our goal is to ensure comprehensive coverage that aligns with your goals and circumstances.
Can't I buy insurance directly? Why do I need an advisor?
While it's possible to buy insurance directly, an advisor offers several advantages. We have an in-depth understanding of the insurance landscape, which enables us to match your needs with the most suitable insurance policy. We also provide personalised guidance, answer your questions, and ensure you're not underinsured or paying for unnecessary coverage.
Can I switch or update my insurance coverage through your consultancy?
Certainly. If your circumstances change or you wish to explore different coverage options, our experts can guide you through the process of updating or switching insurance policies. We'll assist in making the transition smooth and hassle-free to ensure your coverage remains aligned with your needs.
When can I avail of your insurance consultancy service?
You can get started with our insurance consultancy services right away! Simply reach out to us through our website or contact information provided. We're eager to assist you in securing your financial future and will schedule a consultation at your earliest convenience.
Want to get your money sorted? Read our free guide and get back on track today.