If you're looking for a smart way to save money and grow your savings, you've come to the right place.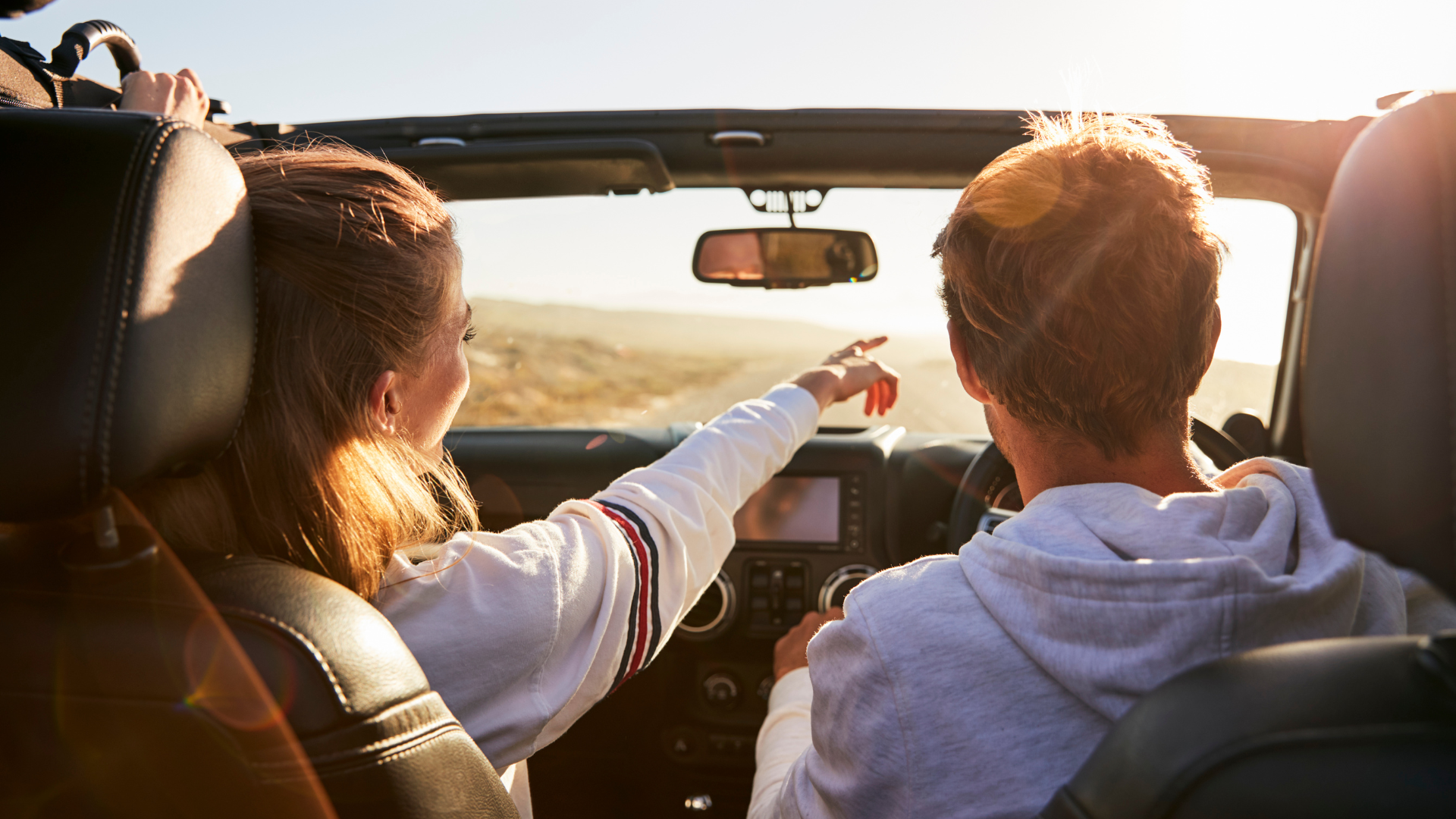 In this article, we'll look at what high interest savings accounts are and how they work. You'll learn how to make the most of them and what are their downsides.
Let's get started and explore the possibility of high-interest savings accounts.
How Does a High Interest Savings Account Work?
A high interest savings account (aka high yield savings account) is a type of savings account but, as the name suggests, it offers a higher interest rate than a typical savings account on the money you save, either in exchange for fulfilling certain requirements or for a set amount of time.
It is composed of a base interest rate (aka standard variable rate) which is the lower ongoing rate paid on your savings, plus a bonus interest rate which you'll get for meeting certain criteria.

The principal goal of high yield savings accounts is to accelerate your savings growth by minimising account keeping fees and limiting your access to funds.
It is why high interest savings accounts are frequently done through online banking and do not include a debit card, which makes it less likely for you to withdraw funds. Instead, the bank keeps your money and, if certain requirements are met, pays you interest every month.
Note that interest paid monthly into your savings account will be compounded. This works for you because compound interest allows you to earn interest on your interest, helping your money grow quicker.
Bonus Interest Rate
There are 2 most common types of high interest accounts:
Bonus Saver Accounts and Online Saver Accounts
There's a big difference between the two, and knowing how to differentiate one from the other will help you save according to your personal situation or need.
Online Saver Accounts
An online savings account is one that typically has no monthly or annual fees and gives you a high interest rate each month just for keeping your money in the bank account.
Many savings accounts online frequently provide high introductory savings rates for a short time. The interest rate will decline to a considerably lower rate after the introductory period.
For example, you'll get a 4% p.a. introductory rate for the first three months, then the interest rate will fall back to a regular savings interest rate of 0.5% p.a.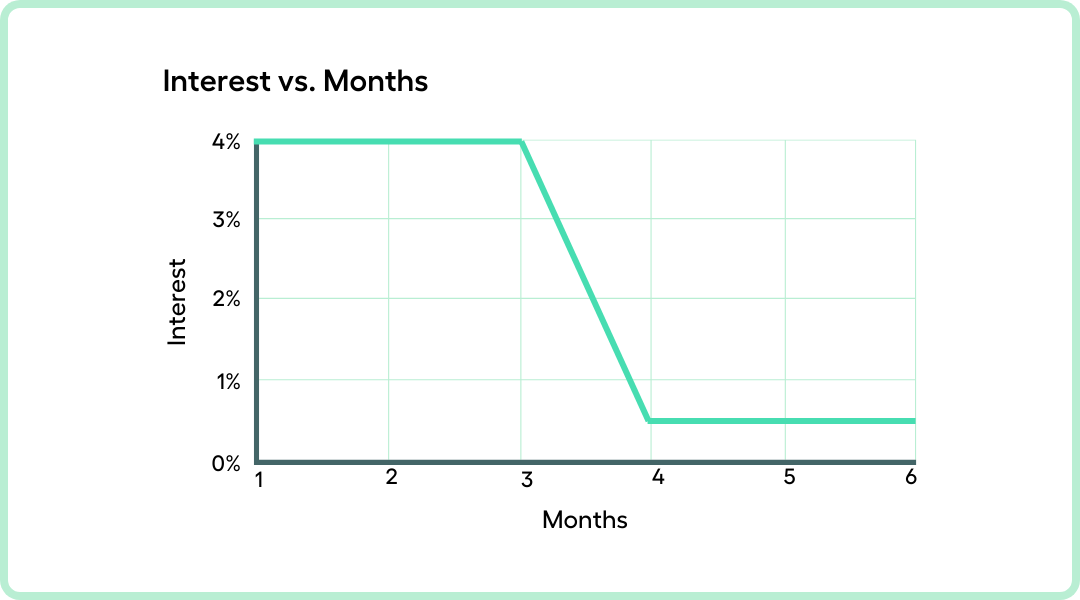 As a result, even while online savings accounts have their advantages, you might not end up earning a greater interest rate over the long run.
Which begs the question:
Are introductory savings rates worth it?
You may choose to switch to another online savings account to benefit from their introductory interest rate. Or you might be better suited investing your money in bonus savings accounts.
Bonus Saver Accounts
Unlike an online saver account, a bonus savings account will pay you a high interest rate each month with no time limit if you meet certain requirements.
All you need to do is meet bonus interest conditions such as make savings deposits of at least $100 a month. If you don't, you will be given the base interest rate, which is typically relatively low for the months you don't meet the minimum monthly deposit requirement.
Therefore, if you fulfil the requirements, you'll earn bonus interest.
The total monthly interest rate for bonus saver accounts is made up of:
The basic interest rate plus the bonus rate.
The bonus saver account rates have no time restrictions or "introductory offers," but you must continue to meet a number of requirements month after month in order to continue earning bonus interest.
For example:
There are high yield savings account products with no monthly deposit condition and will pay you 4.25% p.a. on a savings account balance under $250,000 and a rate of 0.60% p.a. for amounts over $250,000.
This means your $250,000 will earn interest of $10,625 a year (4.25%). And if you keep the $10,625 in the account, it would earn $63.75 (0.60%). And remember these interests compound—you earn interest upon interest.

Another example is a bonus saver account that pays you 5% p.a. interest for balances up to $100,000. But you must make a monthly deposit of $1,000 to any linked accounts and make 5 transactions on card purchases each month.
Every financial institution has a different set of requirements for bonus interest savings accounts. They frequently consist of a minimal monthly deposit, a set number of transactions using a connected card, or a monthly withdrawal cap.
Minimum Balance
If you look at comparison sites and check high interest savings accounts, you'll notice that most of them don't require a minimum amount while others require just a dollar.
This is because high interest savings accounts are designed to encourage you to save what little amount you can and give you an incentive to save more by reaching certain target amounts.
For example:
A savings plus bonus account will give you a standard interest rate of 2% p.a. for balances from 0 to $249,999.99, and bump it up to 4.50% p.a. when you deposit at least $100 in a month and make no withdrawals.

Transaction Accounts
A transaction account is typically used for everyday expenses and frequently includes a debit card so you may make withdrawals or make purchases. The majority of people receive their paycheck directly into their transaction account, which they then use to pay bills or set up automated transfers to savings accounts.
You can also set up direct debits to deposit a portion of your income from your transaction account into your high interest savings account.

This makes it easier to transfer money between the accounts and helps you fulfil certain requirements, such as making a deposit into your savings account each month, to be eligible for the higher interest rate.
Be aware that your linked transaction account may be subject to a monthly fee. Paper statements may also incur a fee, although online statements are always free. ATM fees are sometimes waived.
Best Use of a High Interest Savings Account
Aside from the benefit of better returns, a high yield savings account allows your money to grow risk-free and flexible enough for you to access.
Note that there is no risk as long as your money is in an institution that is backed by the government and is below the insured amount (under the Financial Claims Scheme).
Emergency Fund
High interest savings accounts give you a set, albeit variable, interest rate on all of your deposits. Additionally, your money is protected by the Financial Claims Scheme (FCS), ensuring that your deposits of up to $250,000 are safe and secure.
High interest savings accounts also allow for flexibility. Your money is not locked in and you can withdraw it whenever you want without paying a penalty.
These factors make high interest savings accounts ideal for keeping an emergency fund.
A high-interest savings account provides a secure, easily accessible place to store your emergency fund and increase your financial resilience. When you don't use the money, you'll earn interest on it, but you can withdraw an amount as needed.
Long-Term Financial Goal Savings
A high interest savings account makes it easier to increase your savings and achieve your short-term goals such as saving for a home deposit, buying a car or going on vacation.
Would a high yield savings account be ideal for long term savings goals as well?
A high interest savings account will pay high interest, but it most likely wouldn't be enough to keep up with inflation or help you reach long-term objectives like retirement savings.
However, it still plays a crucial part in your investment portfolio as you wouldn't want to dip into your long-term investments for emergency and short-term expenses.
Is a high-interest savings account a good idea?
Everybody has to have some cash saved up for unforeseen events and short-term financial goals. And a high-interest savings account is a great place to keep that money.
That's because no other financial tool offers a higher interest with zero risk and easy access. Plus, it offers a quick way to save up for a short-term goal.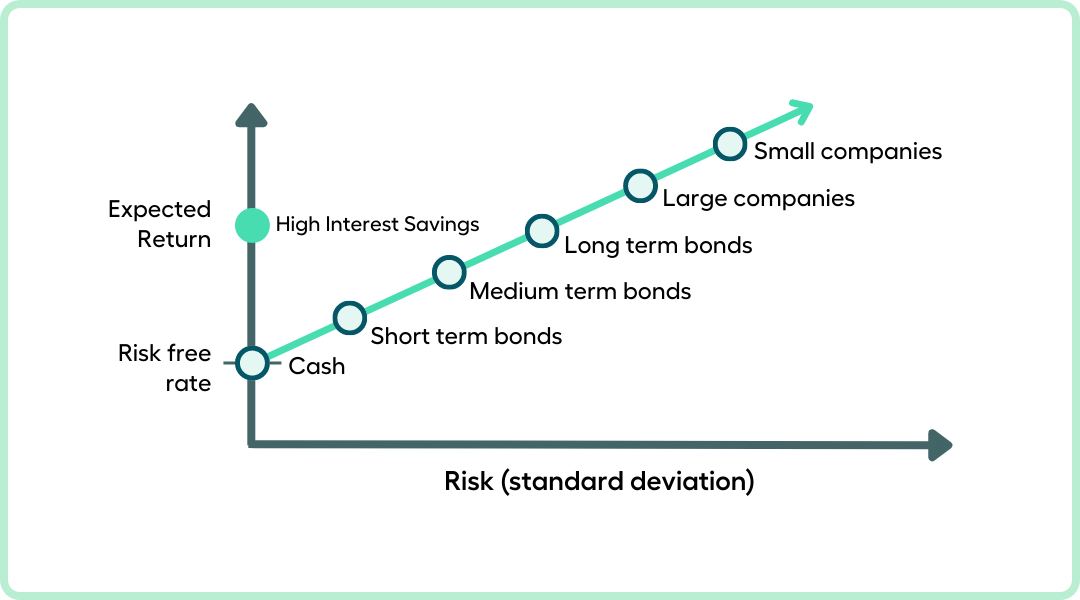 Let's say you're saving $100,000 for a home deposit, and you start saving today $1,000 every week in a high yield savings account with 5% interest p.a. You'll have $109,323 in 2 years with $5,323 total interest earned.
Try our savings calculator to see how long you'll need to save for an emergency fund or a short-term goal.
What is the downside of a high-interest savings account?
While there are many benefits to saving money in high interest savings accounts, there are also a few downsides to be aware of.
Here are a few drawbacks:
High yield savings accounts have variable interest rates. This means that the high interest rate that financial institutions promote when you apply may not remain fixed. Any change in the cash rate of the Reserve Bank of Australia (RBA) can affect the interest rate given to you.
If you prefer a fixed interest rate and you have a lump sum of money, you can consider a term deposit account. A term deposit lets you lock your money away for a set length of time at a fixed rate. Think of term deposits as low-risk investments that give you peace of mind knowing how much your lump sum will make in 1, 3 or even 5 years.
The rate of inflation may be higher than the interest you earn over time on a savings account. Thus long-term wealth growth is not best achieved through high interest savings accounts.
You may incur charges if you go beyond the limited amount of withdrawals on your savings account. Make sure to check what the transaction limits are, and if this includes your linked everyday transaction account.
Also note that the majority of banks that offer a high interest account online have no physical locations.
Need Expert Advice to Help Achieve Your Money Goals? Book a FREE 15 min Call or Send Us Your Questions!